Day Six (Saturday April 27th): A Tool To Covet
Write about your favourite knitting or crochet (or spinning, etc) tool. It can either be a tool directly involved in your craft (knitting needles or crochet hook) or something that makes your craft more pleasurable – be it a special lamp, or stitch markers.
Is it an item that you would recommend to others, and if so for which applications/tasks do you think it is most suited. Conversely, do you have a tool/accessory that you regret buying? Why does it not work for you?
I have said it before and will no doubt say it many times again… I don't really do favourites. Don't you think that to baldly state that x is your favourite anything is to limit yourself completely? I favour different tools for different tasks. Certainly, I pick out KnitPro needles for everyday use, but depending on what I am knitting I will choose between Symfonie, Nova and Karbonz… and rarely select Spectra.  But let us talk Signature. Now there is a needle to love.
I have three pairs of straights and they are a superb tool and I would have a full set if only… they came in a longer length. My Signatures are beautiful and sturdy and they knit like a dream, but at 14″ they are just too short for me to fully enjoy them – not to mention being way too expensive to buy, once import fees are added. Make them 16″ long, please, and bring the price down and I'll never knit with anything else. However, in the meantime, KnitPro give me more bangs per buck than any other needle I have ever used, including Signature, and are vastly superior to Addi, in my opinion.
That's all very well, but quite boring. Let me talk about the role that  hand-made tools have in making my crafting  life more pleasurable. For starters, I am a complete sucker for anything, absolutely anything at all, that is hand-turned from wood. It goes without saying that I have a full set of Jim Towrie's tools: nostepinne and  2 yard and 1 yard niddy noddies. I also have some vintage darning mushrooms, sourced from eBay that I love to bits and use to darn my hand-knitted socks. Vintage tools are very special indeed and usually come with scars evidencing many years of hard work in the hands of other crafters. I once went to see an old fixed heddle loom where the heddle frame was worn into a bow shape years of use by a right-handed user. Things like that really have a voice of their own, as well as the patina of time.
Newly-crafted tools hold a special place in my heart too and for these I turn to Etsy. How much more pleasurable is my orifice hook to use than the standard Ashford wire hook? You guess!
I liked it so much that I asked for a matching Diz
Both items come from Claydancer, who is lovely and helpful and I cannot recommend her enough –
but that did not stop me from acquiring a beautiful hand-made wooden diz too, from GVPencheff
Perhaps less immediately obvious in its attraction is my needle gauge, an object without which my life would be fraught indeed.
I know. Plastic. But it is recycled plastic and profits go to save polar bears – who could resist that? I didn't, I bought one for Gill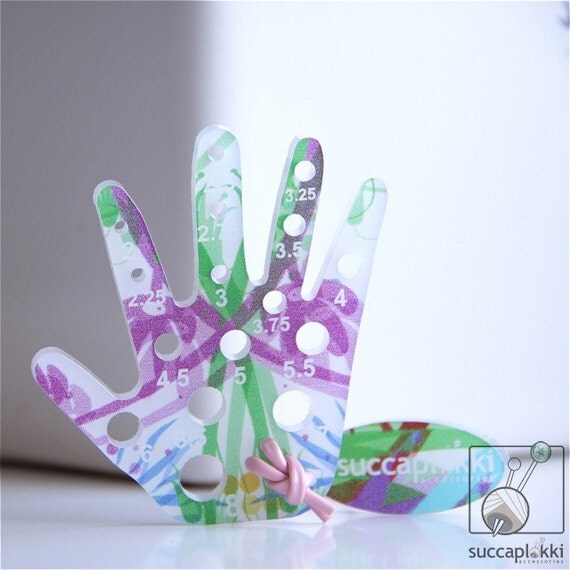 Cute, quirky, good value,  useful and green. What more could you ask for? A set of Succaplokki's stitch markers, maybe?
So that's it for me, I am afraid, I don't really have favourites but I do thrill to anything that is carefully made by a craftsperson and especially if it has had a previous owner who has used and loved the tool too. I plan to be a wood turner in my next incarnation…
…and if you really want to make me choose one tool that I love for its workmanship and that makes a difference in easing my work, it simply has to be my Sunflower Swift. Their qualities are legendary, and you don't need me to tell you about them. Everyone should have one. If you don't knit or spin, simply regard it as a work of art.